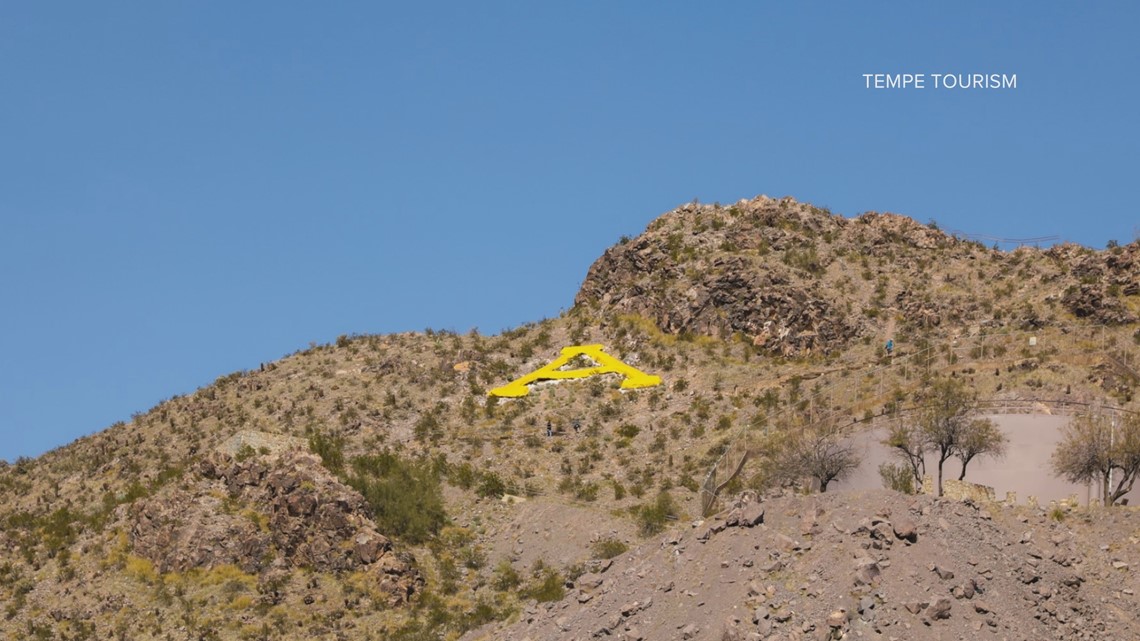 You don't want to miss Tempe's 'A' Mountain Hike Challenge
The "A" mountain hiking challenge begins on Saturday March 12 and ends at the end of April. It's $25 to sign up.
TEMPE, Ariz. – Spring is one of the most beautiful times of the year in the Valley – and a new challenge in Tempe encourages everyone to get outside and win prizes along the way.
The 'A' Mountain Challenge kicks off on Saturday March 12 at the iconic Hayden Butte. Tempe Tourism runs a challenge, where participants climb the "A" mountain at their own pace, then log the hikes into an online portal.
The challenge runs until the end of April.
RELATED: Taco Santa! Valley man cooks free tacos at the top of different trails every Tuesday
Participants who walk at least 40 times will be eligible to win a grand prize of a Downtown Tempe staycation package.
40 times up and down is about the altitude of Mount Everest.
Participants also receive an "A" Mountain competition jersey and chances to win major Tempe business prizes along the way, said Kim DeMeritt, events manager at downtown Tempe.
"We created the event last year when not much was going on," DeMeritt said. win gift cards to downtown merchants."
The challenge is an indirect way to support downtown Tempe businesses still recovering from the challenges of the pandemic. The challenge costs $25.
Today in AZ
Did you miss anything from Today in AZ? Catch some of our favorite morning show crew moments in this playlist.
RELATED: Phoenix doctor who made full recovery after near-fatal COVID Camelback hikes with the team that rescued him