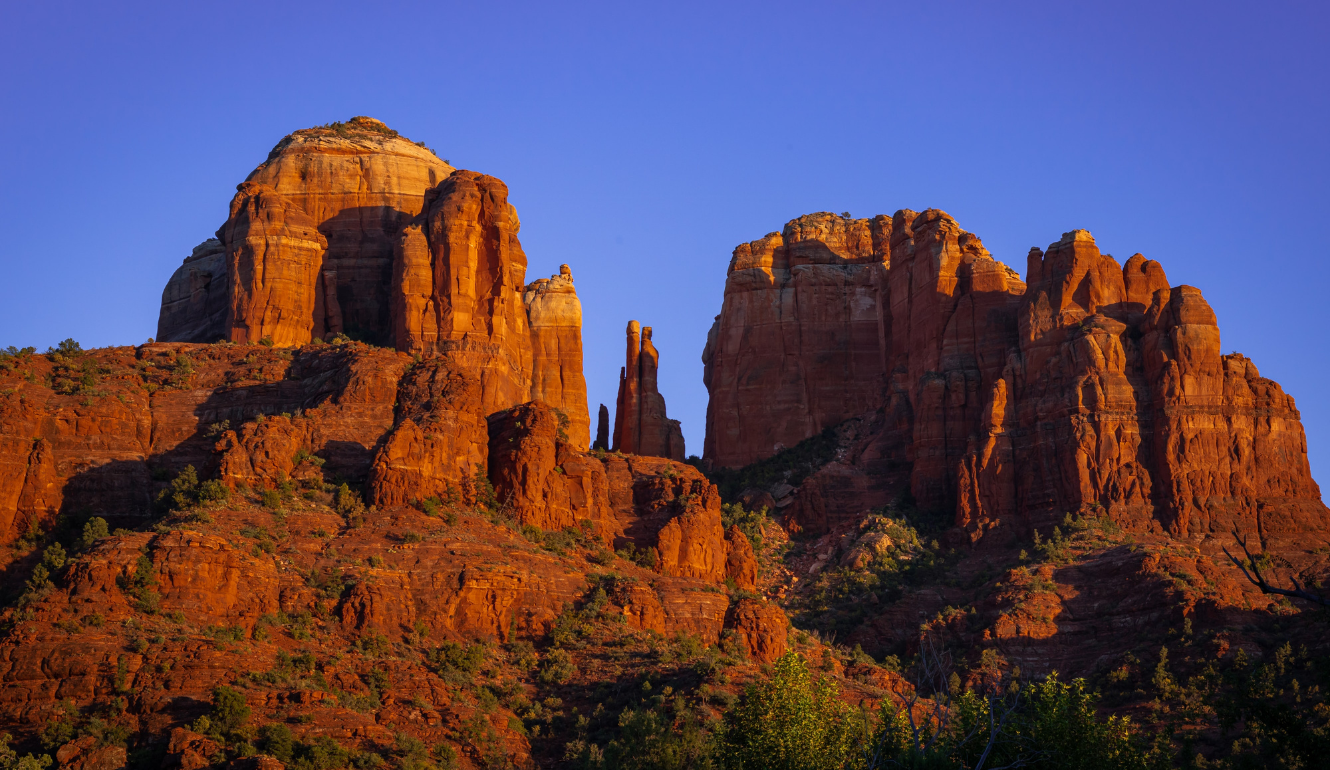 Why Sedona in October is the best time to (backpack) hike
Whether it's spirituality, heritage sites, or hiking with incredible views, Sedona has etched its name in everything. This oasis in Arizona with red rock mountains and canyons has a plethora of cafes and restaurants, spas, resorts and art galleries, plus some interesting activities such as hot air balloons, bike tours electric, wine tastings and soon. With approximately 4 million people visiting Sedona each year, this guide helps you plan the trip more efficiently. Whether stating the benefits of visiting Sedona in October, scenic trails as well as hiking trips.
But before that, about Sedona
About 3 million years ago, Sedona was formed by a single layer of red rock known as the Schnebly Hill Formation. One of the popular centers of pulsating psychic energy, the place has drawn attention due to its healing ability. Besides the spiritual vortices, Sedona has amazing hiking trails. It's a great place for fall foliage as well as the perfect destination for solitude or adventurous pursuits. Other than that, it has the only natural waterslides in the world and is rich in Native American culture. From the Arts and Crafts Village, the Indian Ruins of Palatki, to the Kachina House, Sedona is home to art galleries, handicrafts, handmade jewelry, and… other creative objects. Plus, it has an array of local food outlets.
Related: 10 Free Things To Do In Sedona
Sedona Weather in October
As the city of Sedona is located in the desert town of the northern Verde Valley region of Arizona, it has a spectacular landscape. With its absolute breathtaking beauty in the fall, the temperature cools down and the lush vegetation turns into vibrant shades of reds and oranges. Ideal for outdoor activities such as hiking, mountain or climbing, sometimes the place is unfortunately also crowded.
The weather in October is ideal for outdoor activities such as hiking, mountain biking or climbing. The opportunities for outdoor exploration are among the top reasons people visit Sedona.
The magnificent spectacle of fall can be seen via a drive through Oak Creek Canyon and a stop at Oak Creek Vista, or the northern end of the canyon, for a resplendent view. Additionally, Sedona Stupa is another place to enjoy fall with serenity as it is a spiritual retreat. Plus, leaf-ogling rails are another way to experience the vivid colors of fall via a ride on the Verde Canyon Railroad. A 4-hour drive from Clarkdale, 25 miles from Sedona, traverses the canyon along the Verde River.
Best Sedona Fall Hikes
cathedral rock
A relatively short hike but technical in nature, it offers some impressive views, especially in the fall. The 1.5 mile trail, best point is Crescent Moon Picnic Area on Oak Creek in Red Rock is the main lookout point for fall foliage and scenic views. The difficulty level is moderate, with a total ascent of 700 feet, and it takes 2 hours to complete the same. This hike is aimed more at experienced hikers than at amateurs.
Climbing the bell
Sedona's most recognizable landmark, Bell Rock Climb, is a popular fall hike. The distance is 1 mile with an ascent of 400 feet and the level of difficulty is moderate. This is a relatively easy hike for beginners. The large open plateau opens the way to amazing places like Gibraltar Mountain, Baby Bell, Courthouse Butte, Cathedral Rock, and more.
devil's bridge
A relatively easy hike in Sedona which is extremely popular due to its Instagram worthy views. The Devil's Bridge Trail is over four miles with a total ascent of 500 feet and takes 3 hours to complete. Soaring 50 feet in the air, the arch of Devil's Bridge is the highest point on this trail. Additionally, to reach the Devil Bridge, one must purchase a Red Rock Pass, which costs around $5 per day to $15 per week.
Related: Sedona: What's So Special About Its Four Healing Vortices?
The soldiers' pass trail
Considered one of the best hikes in Sedona due to its relatively short distance and easy level of accessibility, it is blessed with many other attractions. The hike to Soldiers Pass cave is a major attraction, as well as visiting Seven Sacred Pools, hiking past a sinkhole called Devil's Kitchen, and the autumnal weather.
Boynton Canyon Trail
The hike on this trail includes Boynton Canyon, Boynton Vista Trail, and the Subway Cave, and is estimated to be 7.5 miles in total. Despite the distance, it's a relatively easy trek and a flat trail with an ascent of almost 1300 feet. The underground cave has become very popular due to its hidden nature.
Outside of hiking, events in Sedona in October
While backpacking is a draw to visit Sedona, there are plenty of events in October if hiking isn't your thing.
Sedona Arts Festival
Amid red rock landscapes, the Sedona Arts Festival is held October 8-9 and attracts artists from around the world. Whether it's fine art, live music, food and libations; there can be participation for everyone in this event. There is an exhibition of all kinds of artistic creations such as fiber art, photography, sculpture, jewelry, ceramics, painting, etc.
Opening hours: 9 a.m. – 5 p.m. (Saturday) & 10 a.m. – 4 p.m. (Sunday)
Trick or Treat in Downtown Sedona
The event called Trick or Treat has ghosts and ghouls celebrating the spirit of Halloween. There are dance performances, food stalls, various Halloween events as well as a "Haunted Halloween Express", which comes with treats and ghost stories.
When: Trick or Treat (October 31, 5 p.m. – 8 p.m.)
Haunted Halloween Express (October 31)
rock out
If colored crystals, gems and jewelry appeal to you, the Rock, Gem & Jewelry Show, which has over 40 vendors, should be your go-to spot. The event offers all kinds of gems, minerals, fossils, pearls and rare things. Additionally, there is also a silent auction. Admission is about $4.
Date: October 17 (10 a.m. to 4 p.m.)
Red Rocks Oktoberfest
A fun event that raises funds to support youth while the Rotary Club of Sedona Red Rocks sponsors the event. Whether it's Arizona craft beer, food trucks, live music or creative arts; there are plenty of things to keep the mood upbeat. However, no animals are allowed for the event. Admission is around $25 or $30 per person.
Date: October 15 (3 p.m. to 8 p.m.)
arts and crafts fair
One can have the opportunity to meet many artists and see handmade arts and crafts at the Sedona Heritage Museum. There is a lot of exclusivity always seen at this event. Best of all, admission is free.
When: October 23.