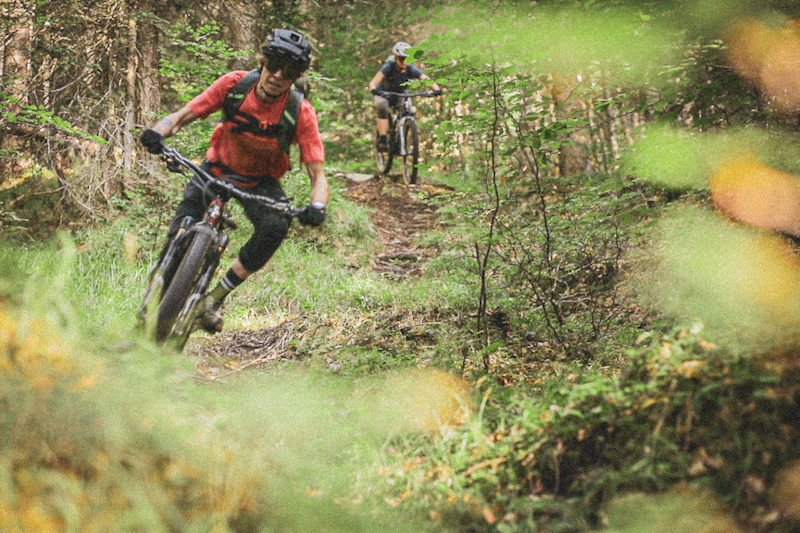 Video: Using the mountain bike as a tool to recharge your batteries and enjoy nature
We are under pressure. Permanently. Higher, faster, further is the motto. When I say us, I mean you and me and ultimately our entire company.
I've been working in an agency for about two years now, mostly in the field of website design and digital campaigns for a wide range of clients. Mentally, I often reach my limits, which is where sporting balance in nature helps enormously to keep a healthy distance from work.
But what if I want to refuel my bike in my free time, because social media shows me every day how cool it is to go faster, further and more high. – WORK ON YOURSELF; CREATE THE TRUE BEST OF YOURSELF; EVERYDAY! And I want it too, because I'm an ambitious person…
Tina and Sarah enjoy what nature has to offer on their bikes.
We can only give all we have for so long. I had to learn that the hard way. The pandemic, a new place to live and a new job challenged me so much that I had a mental block when riding my bike. Many tears were shed, discussions took place and accidents were suffered until I realized that my level of mental processing of new things was completely full. My brain suddenly went on strike. I had to learn on my own and even more accept that now is not the time to fill up on gas on the bike and learn new things, but to do my job well and recharge the batteries in my free time with the bike or spending time with friends in nature.
I'm sure some of you feel the same as me. Ultimately, everyone has to find their own way to deal with outside pressure, or more so, their own pressure. We are definitely not all made to beat today's performance already tomorrow. Even though fancy apps help us track our fitness level, compare us with others, or give us the opportunity to show the world how awesome we are.
I think we have the right to be and stay average and feel good about it, okay from the bottom of our hearts! We don't always have to push ourselves to prove something and please society. Whether at work or in our private life.
after cooking by the fire with vegetables from Sarah's garden.
This awareness is not easy for me and I am still, about a year later, in this process of learning to accept myself and my limits. But I'm making progress and celebrating whenever I can.
I met Sarah at a local cycling event. She thought a lot about living with nature.
I met Sarah while cycling, later we worked at the same place and even started a small label. With Inara.Kollektiv, we dye fabrics from dyes of natural origin, then transform them into accessories. Sarah is a great role model for me when it comes to living in harmony with nature. She taught me which vegetables to plant in my own garden and showed me shapes to produce as little food waste as possible. It completes my creative fiber and lets me be who I am.
Home is where my heart is.
For me, the days when I can be free with a good friend, without stress, in harmony with nature are extremely precious. These are the moments that make life worthwhile in the long run. Let's be honest with ourselves, no new Strava record can do that, and a pay raise can't give us that deep satisfaction either.
Nature is something wonderful, something precious and teaches us a lot. This is why we must take care of it, but also of ourselves.