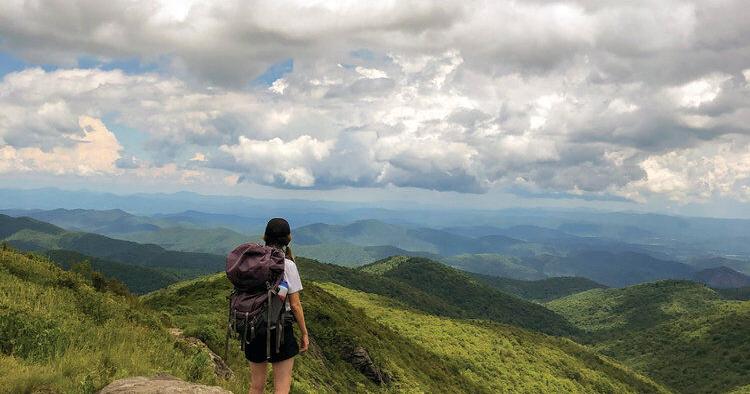 USFS and CDC release guidelines for safe hiking and mountain biking in the event of a virus | Outside
The North Carolina Department of Health and Human Services advises all North Carolinas to practice the Three Ws in addition to the sport-specific safety tips below: Wear a mask (when you cannot maintain a 6 feet distance), wait 6 feet between yourself and others and wash your hands or use hand sanitizer frequently.
Trek
Hiking is a wonderful way to see and experience the many wonders of the country's forests.
As summer transitions into fall, the weather and scenery at this time of year provide near-perfect hiking conditions.
It is important to consider however that the weather at higher altitudes can be much colder, harsher and wetter, especially when the season changes.
The best way to make sure you and your family get home safely after a hike, no matter how long, is to heed the Forest Service's safety tips.
To visit www.fs.usda.gov/visit/mapsWhere www.store.usgs.gov/maps for a trail map to help you plan your route based on your abilities, time available and interests.
Please follow these safety tips to ensure a safe trip:
•Stay on marked trails.
• Do not walk alone. Let the slowest person in your group set the tone.
This is especially important when children are in your group.
• Entrust your itinerary to a friend or family member and check in with them when you return.
• Make an emergency plan before you start your trip.
Make sure everyone knows what to do if they get lost or have a medical emergency. Give children whistles with "stop and blow" instructions if they get lost.
•Rest frequently or vary your pace to conserve energy.
• Drink plenty of water, even on cool, humid days. Never drink your entire supply between refills.
•Wear appropriate clothing, including sturdy, broken-in, comfortable boots.
• Consider using a hiking stick or cane to help you maintain your balance in uneven or dangerous areas.
•Be aware of your surroundings and plan your approach before entering more dangerous areas.
Wet surfaces can be a hazard and even more so if it's on a slope.
•Think about what you will do if you start to slip or fall so you are prepared.
•In the event of a fall, do not try to catch up; try to avoid landing on your hands, elbows or knees. Landing on the side of your body is much safer.
• If the slope is such that you know you will slip, lowering your center of gravity, by sitting down and sliding on your feet or buttocks, is safer.
• If you slip while standing up, keep your weight on your feet and bend your knees. Do not lean back or forward when sliding.
If on a day hike, extra weight wears you down and reduces your agility over rough terrain.
Travel as light as possible.
Leave the extras behind, but remember to bring these essentials: map; sunglasses and a hat; Solar cream; flash light; waterproof matches; first aid kit; water and water purifying tablets; energy bars, granola; sweets or fruit; and extra clothes.
Temperatures can change significantly, particularly if there is a change in elevation.
For every 1,000 feet of elevation gain, the temperature often drops three to five degrees.
The Pisgah District is home to some of the most popular mountain biking trails in the East.
As a potentially dangerous sport, the Forest Service recommends the following tips to keep cyclists safe and healthy.
Stay on open forest roads
Some roads may be temporarily or permanently closed due to COVID-9 or to protect against further damage to wetlands and water resources, to stop damage to soil, water and plant resources.
The intent of the road closures is to balance popular public use with the sustainability of natural resources.
Closed roads will be marked. Not all bike paths are open to off-road vehicles. Go to your forest or meadow website for a map of the bike paths.
Wilderness areas are off-limits to all vehicles, including bicycles.
Respect the signs and barriers and leave the doors as you found them. Some trails cross private property and are subject to deed restrictions, which prohibit travel by vehicle of any kind.
Respect public and private property by practicing minimum impact cycling.
Protect the environment
•Stay on trails and roads designated for use. Cutting switchbacks, creating hills and riding in undesignated areas cause erosion, loss of wildlife habitat and other damage to natural resources. Repairs cost taxpayers money and citations cost you money.
• Minimize erosion by staying on trails and not cutting switchbacks.
•Avoid wet and muddy areas as they are more susceptible to erosion. Grasslands, lake shores, stream banks and vegetation are easily damaged.
•Do not drive on snowy roads.
•Do not disturb wildlife or livestock.
• Teach new riders trail-leader etiquette by example.
• Do not litter. Carry more than your share.
Ride safe, stay in control
•The forest is for everyone. Watch out for hikers and equestrians.
•Always wear a hard hat and other equipment.
• Ride in single file in the middle of the trail to avoid widening the trail.
•Give way to other trail users.
Horses are frightened when they see an unfamiliar object, especially one that moves quickly and quietly.
• Slow down and use caution when passing others. If necessary, get off your vehicle or bike on the downhill side and wait for horses and hikers to pass.
• Control your speed at all times and approach turns in anticipation of someone in the turn.
• Reckless driving and high downhill speeds are not appropriate.
be ready
• Be prepared for sudden weather changes.
•Don't ride alone. Tell someone where you plan to ride, then stick to your plans.
• Don't take unnecessary risks – help in an emergency can be miles away.
•Make sure you have a first aid kit and other safety equipment with you when riding in the forest.