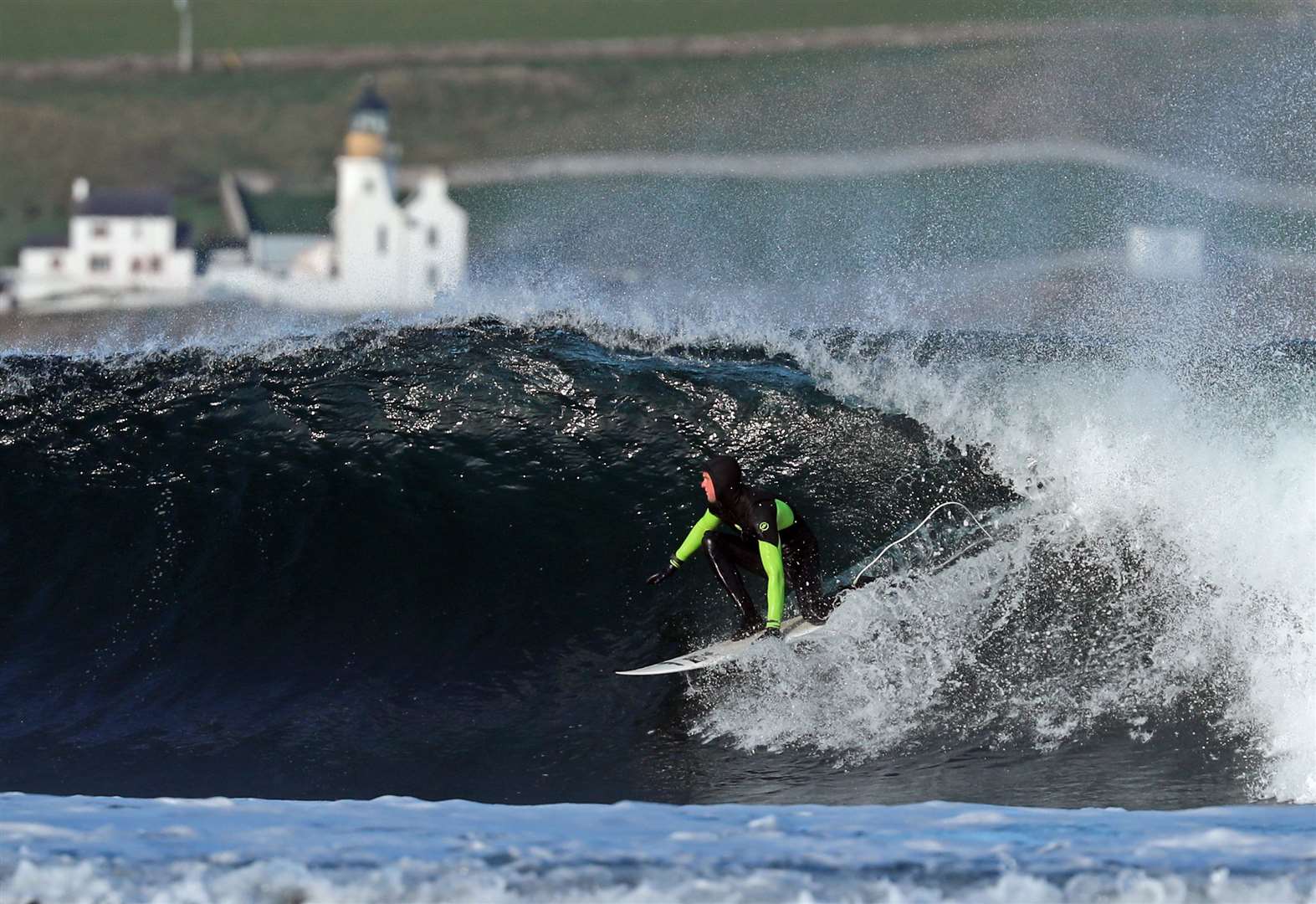 Surf and rugby duo Caithness among Highland athletes to benefit from travel program
[ad_1]
Three top athletic aces from Caithness are part of a group of 14 in the Highlands who have received grants from SportScotland's Athlete Travel Awards program.
The funding will help surf duo Mark Boyd and Craig McLachlan and rugby player Shannon Pasotti excel in the sports of their choice, along with 11 others from across the region, including runners, golfers and mountain bikers.
Details of the program – which promotes equal opportunities to participate, advance and succeed nationally and internationally – were announced by Scottish Sports Minister Maree Todd.
Ms Todd, who is the MSP of Caithness, Sutherland and Ross, was visiting Dingwall Academy as part of Scottish Women and Girls in Sport Week and met one of the successful athletes, Stephen Mackay (29) , an endurance runner from Inverness.
"The Athlete Travel Rewards program helps athletes in rural, remote and island communities overcome some of the challenges they face, such as access to facilities and travel costs," said Ms. Todd.
"I am delighted that for the first time Highland athletes are benefiting from the program and look forward to seeing more of these athletes in the future as they continue to excel in their sport of choice.
The Athlete Travel Award program is a partnership between SportScotland and the participating local authorities – the Orkney Islands, the Western Islands and the Shetland Islands as well as the Highlands.
It aims to help "elite course" athletes – athletes with the potential to compete at a high level – to have better access to competitive and training opportunities without having to relocate from their community.
Athletes can apply for amounts of up to £ 1,500 through an application process. They are required to prove that the grant will improve their performance and give them access to quality training and competition opportunities to support their development.
One of the local athletes to benefit from the awards program is the reigning Scottish surfing champion, Mark Boyd.
Scottish surf team captain Mark (34) said: "It's great to have a little bit of support for the trips we take from SportScotland.
"It will make it easier to access events, although a lot has been canceled this year. I used all the money to take a few training trips."
Mark will defend his title at the Scottish National Surfing Championships in Thurso from November 5-7 – the first since 2019.
He has been the reigning Scottish champion since 2018. "I feel great," said Mark. "I've had a small injury the last few weeks which is unfortunate, but I'm confident and can't wait to get back to competition."
Another local surfer, Craig McLachlan, 16, also received funding which he spent to travel to a number of Scottish competitions this year as well as training events.
In October Craig was thrilled to win the Under-16 title at the Scottish Junior Nationals held in Sandend, Aberdeenshire, and the week before he had won the junior boys section at the Tynemouth Open Surf Contest.
During the season he competed in five Scottish junior competitions, winning the overall title in the men's under-16 and under-18 sections.
After a successful season, the fifth year student at Thurso High School is now busy making sure he has enough surf ahead of this weekend's championships in Thurso where he will make his debut in the men's event – a big step forward for him.
He is also considering next year when he hopes to compete in the World Junior Surfing Championship in El Salvador.
Shannon Pasotti, who turns 18 on Wednesday, said the athlete travel rewards program would make a big difference in helping her transition from junior rugby to senior rugby.
Shannon, who lives in Thurso, has performed in the Scottish Futures U18 Performance Development Program and has Scottish Women's Assessment Camps coming up.
She played for Caithness Krakens in the Caledonia North Region League and also plays for Caithness U18s.
"Receiving this money will make a huge difference in my rugby development as it will allow me to participate in more competitive training sessions and matches, allowing me to move from junior rugby to senior rugby," she said.
"It will also prepare me better for my women's assessment camps in Scotland in the near future."
Shannon is in her second year of studying sports and fitness at the University of the Highlands and Islands.
Highland athletes who have passed this round of applications are:
Stephen Mackay (athletics, Inverness-based)
Summer Elliot (golf, Inverness)
Sophie Barrie (badminton, Inverness)
Shannon Pasotti (rugby, Thurso)
Ollie Smith (rugby, Inverness)
Megan Keith (track and field and orienteering, Inverness)
Mark Boyd (surf, Thurso)
Lucas Cairns (athletics, Fortrose)
Jack Mann (golf, Avoch)
Douglas Goodwill (Downhill mountain biking, Beauly)
Daniel Parfitt (Downhill mountain biking, Fort William)
Craig McLachlan (surf, Thurso)
Alice Kemsley (orienteering, Nethy Bridge)
Alexander Mackay (athletics, Dingwall)
Stephen Mackay, who represented Scotland in the 3,000m and holds the Inverness Harriers 1,500m record, says the extra support will make a big difference to Highland athletes.
"Being in the north can be a bit of a disadvantage because you have that extra cost right away just to travel the route that you might not have if you are based in the central belt," Stephen said. "So this funding makes it easier to access the competitions and the training camp level that we need as full-time athletes.
"As an endurance runner you have to spend a few months at altitude.
"I'm hoping to reach the Commonwealth Games standard for the 800m or 1500m and to do that, I'm going to have to compete in bigger competitions across Europe. There will also be opportunities in the UK but to be honest living in Inverness it doesn't matter UK or Europe you have to travel anyway.
"It can be expensive, so sometimes it's just as cheap to go to Europe and have a better quality race. This funding is crucial to enable me to do that because it allows me to avoid some of the hassle. and costs. "
As part of the support program, High Life Highland gave athletes supported by the program free access to all of its facilities in the region.
Stephen, who also trains with Olympians Laura Muir and Jemma Reekie in Glasgow, added: "I use the track but also the new gymnasium in Inverness. They have a strength and conditioning suite that is really good – to be honest, this is one of the best I've ever used.
"This is where I train normally, but with High Life Highland you can now train anywhere in the Highlands for free, so if you are away for the weekend you can go to no any sports center.
"I also have Inverness Royal Academy next to me so I use it too and just having that flexibility is so handy."
SportScotland Managing Director Stewart Harris said: "At SportScotland, we recognize the specific challenges facing Highland athletes. That's why we're excited to provide this investment through the Athlete Rewards Program, in partnership with High Life Highland.
"By working together, we can provide services locally through the SportScotland Institute of Sport and High Life Highland, while also providing additional support to enable talented athletes to get to competitions and advance in the sport of their choice.
"It's fantastic to see these first Highland athletes who stand to benefit from the program, and we can't wait to see how their athletic careers progress."
SportScotland allocated £ 10,000 to each of the four local authorities in the Highlands and Islands, with the recreation boards or trusts then being required to supplement this with £ 2,000 of their own funding, plus the equivalent of £ 3,000 of time management and administration.
Mags Duncan, Sports Development Manager for High Life Highland, said: "We are delighted to be working in partnership with SportScotland to provide this additional funding to support the talented athletes of Highland. The funding will help them access specialized training and competitions that will benefit their development.
Up to 32 athletes from the four local authorities in the Highlands and Islands will be supported in 2021/22. Now in its third year of funding, the program has already supported 48 athletes across island authorities.
---
Do you want to respond to this article? If yes, click here submit your thoughts and they can be published in print.
---
[ad_2]