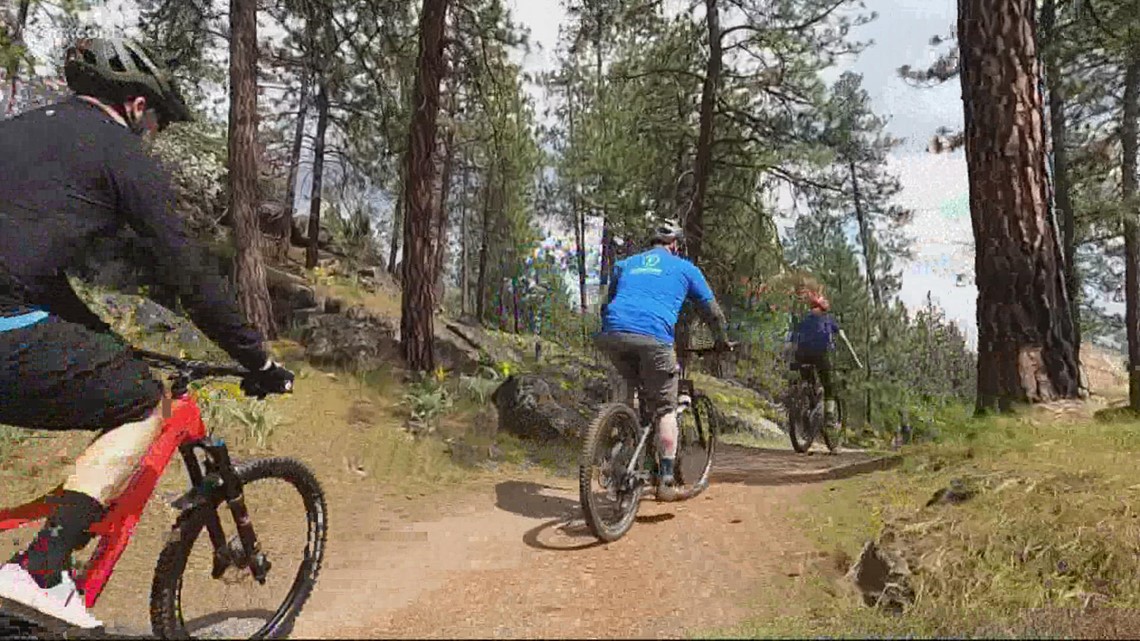 Spokane's mountain biking scene continues to grow
Mountain biking in the Interior Northwest was steadily increasing prior to March 2020. However, the pandemic has overloaded demand for anything outdoors.
SPOKANE, Wash. — When the COVID-19 pandemic hit in 2020 and the global economy slowed, bicycle sales soared, and so did the bicycle scene in the Interior Northwest.
Inside the Bike Hub on South Perry Street, supply chain difficulties begin to improve; inventory is returning and interest in two-wheeled transportation remains on track.
Chris Andreasen, co-owner of Bike Hub, has long been a part of the Spokane cycling scene. According to him, mountain biking in the Interior Northwest was steadily increasing before March 2020. However, the pandemic has overloaded demand for anything outdoors.
"We see mountain bikes, especially with the pandemic, outdoor recreation has just exploded," Andreasen said. "So many new riders are coming into the sport where mountain biking has become kind of a mainstream sport now."
NPD has also found that interest in one particular type of bike is skyrocketing: mountain bikes.
A few months after the start of the pandemic, in June 2020, sales of full suspension mountain bikes increased by 92% compared to the same month of the previous year.
As pandemic restrictions are lifted and life begins to return to normal, local cyclists believe interest in the sport has not gone away.
"Fortunately, I think it fits, with mountain biking in particular," said Evergreen East Mountain Bike Alliance East Chapter President Chris Conly. "So we see a lot more children [and] many more families.
Chapter Vice President Melinda DuPree agrees.
"Cycling is a special pleasure," she said. "It's hard not to smile when you're cycling. It's a bit faster than hiking."
Evergreen is the nation's largest not-for-profit mountain biking organization. Last year alone, local chapter volunteers put in 4,000 man-hours to build and maintain dozens of bike paths in eastern Washington.
"I really think it's going to continue to grow and I think we're becoming more and more of a destination for people," Conly said. "A lot of people on the west side come here to ride their bikes now, especially a lot of people realize that we have a long drop off so we get some really great riding additions. Some of the best rides here in Beacon are in october. "
Along with the surge in cycling driven by the pandemic, Conly said years of working with landowners and conservation groups to open up more trails to ride is opening up the sport to more people. Over the past two years, Evergreen East has built approximately 12 miles of new trails, with another 10 miles planned over the next two years.
Back at the Bike Hub, demand for high-end mountain bikes remains high, according to Andreasen. Although some bikes are still hard to get from manufacturers, customers no longer have to wait six months to a year for a new bike.
"We have a lot more recreational options, more inventory now than we've had in quite a long time," he said. "It's definitely getting better."
More trails, a growing bike supply, and a long riding season: That's why Conly and Andreasen think Spokane's mountain scene is ripe for growth. In fact, Andreasen is betting on it; he is working on opening a fourth bike shop in Liberty Lake.
"Bellingham is sort of the Mecca of the North West right now, but for the cycling community, access to trails and just for the good vibes, I think we're probably number two on that now," said he declared. "We just had a great selection. The riding and a great group of people here."
>> Download the KREM 2 Roku and Amazon Fire apps to watch live newscasts and on-demand videos