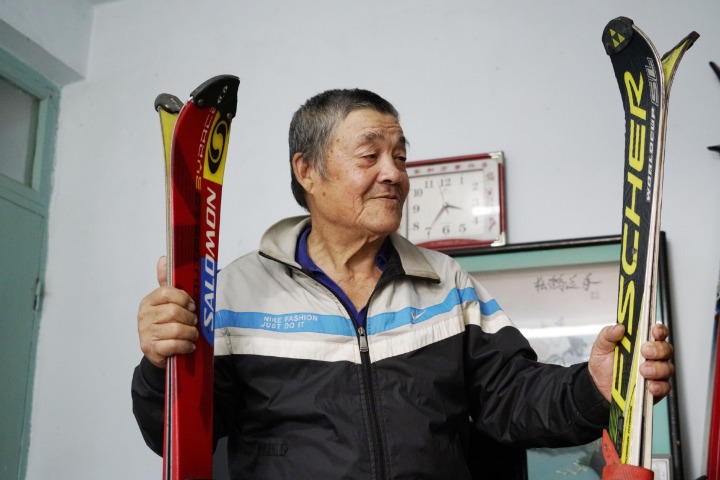 Skiing still keeps Jilin's man, 82, on track
Even at the age of 82, Han Tongyuan insists on training on his inline skates daily at Beishan Park in Jilin City, Jilin Province, and looks forward to the upcoming ski season.
His skillful performances have always attracted a lot of attention, but few of his fans know that he was once a national ski champion.
Han, a retired bulldozer driver in Jilin, was the 20-kilometer cross-country ski champion at the first National Ski Games in 1957.
In fact, the former champion began to learn skiing to improve his ability to keep sheep.
Born in a village at the foot of Beishan Mountain in Jilin, Han began to help his family keep sheep from childhood.
It was really difficult to follow the sheep in the snowy mountainous areas, so Han made a simple snowboard for skiing.
Every day he skied dozens of kilometers and several months later he could move faster than sheep.
Due to his excellent performance in the city ski competition, he was selected to join the city ski team.
After winning his second championship at the second National Ski Games in 1958, he had a desire to compete in the Winter Olympics.
"At that time, we didn't know the skill level of foreign athletes until some athletes came to Jilin from the Soviet Union for an experience exchange in 1959," he said. "They were well equipped and competent, but I had the confidence to perform well if I could compete in international competitions."
Han didn't get a chance until he retired from the ski team in 1963, and then he became a bulldozer driver. However, he never gave up his enthusiasm for skiing.
Every winter Han goes to the city's professional ski resort and the other seasons he slides on his inline skates on the park's asphalt ramp.
"Over the past decades, I have witnessed the great changes in snow and ice sports in China," he said. "There are more well-equipped ski resorts and snow and ice sports have become popular choices for sports enthusiasts."
As the Beijing 2022 Winter Olympics approached, Han gave his blessing and greeted the young athletes.
"I hope to see more young athletes take home honors for our country," he said. "In addition, I hope that more people will be able to participate in snow and ice sports, which will help them stay healthy."