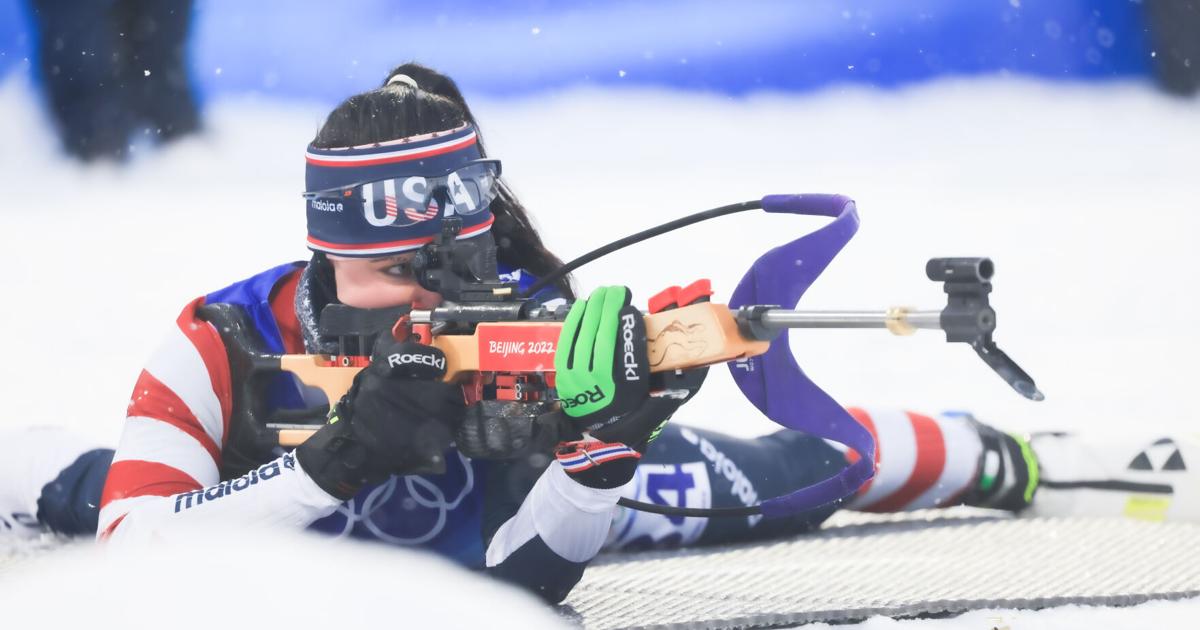 Skiing and shooting: home base of Grand Junction for the Olympic biathlete | Western Colorado
She's your neighbor from Grand Junction and a member of the US Olympic team. And a member of the US biathlon team, competing around the world.
Maybe you've seen her downtown, enjoying a cup of coffee. Or maybe you saw her cross-country skiing in Grand Mesa. Or hike Pollock Bench.
At this time of year, however, she's in the midst of a grueling international travel schedule.
Reid recently competed in her second Winter Olympics in China, then traveled to Finland and Estonia for more Biathlon World Cup competitions.
The Beijing Games, she said, showed a stark contrast to the Olympics in Pyeongchang, South Korea, four years earlier.
"Beijing was a new breed of horse after Pyeongchang," Reid said in an email interview from Kontiolahti, Finland. "We've definitely lost a lot of what you might call the 'Olympic experience' without being able to get out of the closed loop."
She said she and the biathlon team were unable to tour the area or host outside visitors.
"Historically, Team USA and other nations have created homes, areas where you can meet friends, fans, family, sponsors, etc. Obviously COVID undid all of that, so what we ended up with was, indeed, a very closed loop. "
Reid said the arrangement reduces the number of meetings and media obligations.
"But it caused an almost claustrophobic feeling at the end of the Games," she said, adding that the biathlon venue was in the mountain village of Zhangjiakou, a five-hour bus ride from Beijing.
BIATHLON LOCATION
Reid, who migrated to biathlon after a successful career as a cross-country skier at the University of Colorado, said the competition venue and running tracks were exceptional.
"(They) were adorable, and that was a huge question mark before the Games," Reid said.
Usually there is a pre-event competition a year in advance at the respective Olympic venues, Reid said. But not for the 2022 Winter Games.
Without a preview, she said the biathletes were pleasantly stunned by the venue.
"What a nice surprise," Reid said. "Our course, in a country that is not on the list of popular biathlon countries, gave us a nice and fun rollercoaster ride of a racing course with fast turns and fun downhills and uphills that n weren't too stiff."
The course also offered views of the ski jump and the Great Wall of China.
The competition itself, she said, was more than difficult.
"Because of the altitude… the cold, the wind and the immense journey to get there, I would say that for me and many of my teammates, these are some of the toughest competitions we have ever faced," Reid said. "Learning not just the course of the race, but the wind at the (shooting) range and the pace of the approach to the range is part of the difficulty of a multi-faceted sport like biathlon. These obstacles have been amplified in Beijing with the extreme conditions."
Biathlon combines the physical intensity of cross-country skiing with shooting, using a special .22 caliber rifle. Athletes ski then shoot alternating standing and lying positions.
The targets are 55 meters away. And small. The target diameter for prone shooting is 1.8 inches. The diameter of the standing target is 4.5 inches.
COLD WEATHER
China's ultra-cold temperatures made shooting anxiety worse, Reid said, explaining that entering the Olympics she struggled a bit with a shooting slump. Her shooting in the relay events remained strong, but she was not on top form in her individual races, she said.
"(In Beijing), that first race was quite shocking to me," she said. "The Games are long, however. And I think in the end I put in some good performances, especially in the women's pursuit and relay – enough that I left Beijing quite happy with how it went.
Still, she said, filming was complicated by the extreme cold.
"For our women's relay, I actually taped a hand warmer to the front and back of my wrist, and I wore one of those mitt-glove combinations that I'm pretty sure are made for kids," Reid said. "It worked and I felt my dominant hand for most of the run, which is more than I can say for some of my individual runs."
Reid and her American teammates finished 11th in the 4x6K relay.
Individually, she finished 29th in the 10 km pursuit, 34th in the 7.5 km sprint event and 57th in the 15 km event.
Just a few years ago, Reid was completing a graduate degree in engineering (accompanied by an undergraduate degree in applied mathematics) at Boulder.
She had also just completed a landmark career in ski racing for the Buffaloes.
A seven-time All-American, she won 11 of 39 Nordic races in college, finishing in the top 10 in 35 of 39 races.
She capped off her college career by winning the 2013 NCAA individual title in the 15k freestyle race, helping Colorado win the team championship.
She was also named CU Female Athlete of the Year in 2013.
LEARN TO SHOOT
"I came to biathlon a bit by accident," Reid said. "I inherited a biathlon rifle from my grandfather. I was the only competitive cross-country skier in my family and my mother gave it to me if I wanted to try this sport.
"Shortly after that, the then Director of USA Biathlon contacted me and asked if I would like to come to Lake Placid at the Olympic Training Center to try the sport, and the rest is up to the history," Reid said.
"I had no training in shooting; I grew up in Northern California. I don't hunt, I didn't grow up in target or precision shooting," Reid said. "Technically, I don't own a single gun, not even the one I compete with now."
But, she says, she took up shooting from her earliest days working with the biathlon development coach.
"I had no bad habits to unlearn," Reid said. "So they can teach me from scratch."
Reid proved to be a quick learner. "It turns out that I like to shoot, and I think that's what got me there," Reid said. "I find the process very meditative, and the interplay between intense, dynamic and aerobically challenging sport and precise, static and mental sport deeply fascinating."
She said most U.S. biathletes come from the world of cross-country racing, unlike the rest of biathlon countries which start with youth programs and have multiple biathlon venues.
GREAT JUNCTION
Reid, 29, from Madison, Wisconsin, ended up with Grand Junction as his home base thanks to a bit of serendipity.
"I was 'adopted' by Dr. Lewis Kirkegaard of Mountain West Dermatology, who gave me a place to live while I considered my next steps after completing graduate school at CU," Reid said. "I had just started my biathlon career and was trying to figure out how to navigate a future where I was earning absolutely no money and was half the year away.
"Giving myself a home in Grand Junction has allowed me to focus primarily on my athletic career," Reid said. "Sometimes you find your family in very unexpected places, and him and his son Cameron, I really consider a part of mine."
She said Grand Mesa offered another unexpected perk when she moved to Grand Junction.
"That's actually why Dr Kirkegaard wrote to me in the first place, encouraging me to come and ski the mesa after the end of my World Cup season, as the snow lasts even into June some years" , said Reid. "I flew from the last race of my season to Grand Junction, then flew back to Boulder, packed my car, the last eight years of my life and traveled all the way to the west slope. I've been living here ever since."
"I love the desert; it sings in my soul," Reid said. "The endless trails, the beautiful mesa, the Colorado River…you can find me wandering on an outdoor adventure most days when I'm home, and hopping downtown for a coffee and a beer ( depending on the day) when I'm done."