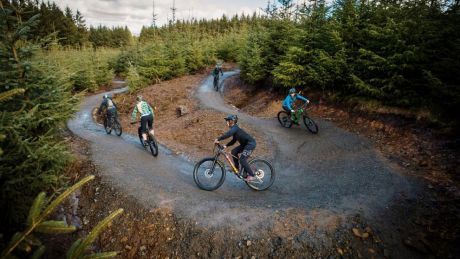 Nine things to know before mountain biking for the first time
While we'd say having fun is an integral part of any sport, having a good time is absolutely at the heart of mountain biking.
"A lot of people would say that the best cyclist on the track is the one who has the most fun," says Martin Astley, director and founder of Bike Park Wales.
Although it is unlikely that you have the more fun from your first try, we asked Astley for their tips for new riders, so you're well-prepared to have the best time when you first start out. Here's what you need to know.
1. You can rent all the kit you need…
The best analogy is a ski resort. You have a bunch of people who are super enthusiastic and all have their own gear, while people new to the sport will tend to rent all the gear and maybe get some instruction as well.
It's the same at BikePark Wales. We have great bikes you can hire, plus we can supply the helmet, knee pads, elbow pads, gloves – all that sort of thing.
It's worth going to a dedicated bike park or trail center if you're a beginner. They are all weather so you are not going to snorkel in the bogs, and you can choose a specially designed and graded trail for your ability, plus you can get the equipment.
2. …But take a raincoat
The only important thing to have with you, which you won't get at a trail center or bike park, is a waterproof jacket. Especially in Wales!
3. Trails are color coded
Green is beginner. Blue is intermediate. Red is advanced and black is expert. We actually have what's called a pro line, which is really, really difficult.
A beginner's trail is less steep and much more predictable. Although there are grade changes as you descend, it was designed so that the bike never slips away from you.
The surface you ride on will also be more even. If you ride a more advanced trail parts can be really rocky and loose and then parts can be really muddy.
4. You don't have to go up
We have a fleet of minibuses with trailers. You load up your bike and we take you to the top of the hill, then you come back down and repeat. We are one of four locations in Wales that have this facility. Then there are plenty of local, publicly operated trail centers that are more like a cross-country ski loop, where you have to pedal up and down to get around.
5. Use your front brake
It's a myth that you shouldn't use your front brake because you'll go over the handlebars. Definitely use your front brake, or you'll go too fast and skid all over the place, but use it wisely.
6. Don't fixate on your front wheel
Look ahead on the trail. You have to scan while looking 10 meters ahead. Once you become an advanced pilot, your eyes constantly scan 10 meters just in front of your wheel, then back up to 10 meters.
7. It's not uncomfortable
Modern bikes are amazing. They have about six or seven inches of suspension travel, very powerful disc brakes and very grippy tires. It's really not uncomfortable.
8. Learn how to repair a puncture
Bikes have come a long way over the years, but flat tires are still a big part of mountain biking. Unfortunately, if you do a lot of mountain biking, you will have to repair punctures.
9. You can now take courses
Mountain biking has traditionally been a sport where people don't receive instruction, as it doesn't really have a club structure. But in recent years coaching has become increasingly common, and not just for beginner riders but also for more experienced riders.
BikePark Wales in the Brecon Beacons is the largest purpose-built cycle park in the UK. 40 tracks are now available, including the new Kermit track, ideal for beginners. Learn more about bikeparkwales.com