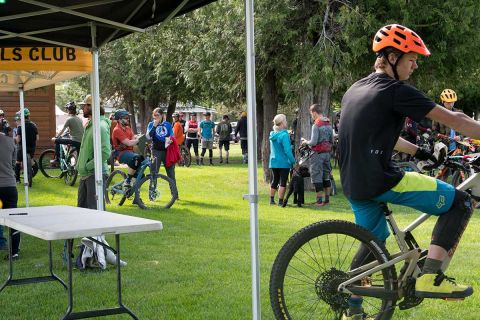 Mountain biking boom in tiny Copper Harbor causes growing pains
One of them, Wendt said, has threatened to retire if this summer is as hectic as it was last year.
"We welcome thousands of people to a city that is really not designed for this," said Wendt.
After the port's busiest summer in recent history, Keweenaw County officials began dealing with the rapidly growing community last fall. Among the questions: Would the city be at legal risk if it approved a proposed snow park that spanned the county-owned land surrounding the Keweenaw Mountain Lodge, a Works Progress Administration project that is now a private complex surrounded by nature?
Many of the area's mountain bike trails also cross county property and neighboring township land, and officials feared an injured biker could sue local governments over medical bills.
The answer is probably no. Michigan law protects landowners from most claims that arise when people are injured while recreating themselves on their land, as long as the landowner does not charge a fee for using the property. The county council eventually agreed to sell the property to the lodge owner, with the agreement that the trails will remain open to the public.
But Michigan's Department of Natural Resources must first approve the deal, and until that happens, three of Copper Harbor's most iconic and challenging trails remain closed.
"No one wants to see the trails closed," said board chairman Don Piche, "but we have to protect the county."
Meanwhile, a landowner who had long allowed mountain bikers to cross his property revoked access, closing off a main thoroughfare between the city center and the surrounding hills.
Owner Clyde Wescoat said he's had enough of the rowdy bikers ripping up his property. Its trails will remain open to hikers, he said, but "cyclists have all kinds of other places to go."
"It's nature," he said. "It's not the city, and it's not Disney World."
Ciavola of the trails club said he was disappointed but understands the concerns.
"It's difficult right now for longtime residents, especially those who are not business owners, who come here for this quiet lifestyle," he said. "They see it changing around them.
Access to land in danger
Small trail closures suggest a greater concern for the area's outdoor enthusiasts, from cyclists and mountain bikers to bird watchers and hikers: public permission to build and use trails has often been obtained through 'temporary handshake agreements.
As a booming real estate market sparks a wave of real estate sales, advocates of recreation fear their access to vast swathes of private forests long open to the public will soon be compromised.
A landowner, a hedge fund called The Rohatyn Group, owns more than a third of the land in Keweenaw County. Since the company's vast acreage is listed in Michigan's Commercial Forest Land Program, it is generally open to hunters, fishermen and trappers. The company also allows mountain bikers and snowmobilers to take the old forest and mining roads that cross its territory.
But last year, land managers closed the main ATV trail in Copper Harbor after too many cyclists got in the way of logging trucks during an ongoing harvest.
"A few donkey heads ruin everyone," said Daryl St. John, president of the Keweenaw ATV Club.
St. John and other recreation advocates fear this temporary trail closure may not be the last.
Buyers bought homes and land out of the blue, above asking price. This trend is expected to continue if a controversial proposed cell tower is built, ending the digital isolation that limits the region's appeal to those looking for vacation homes or a scenic place to fulfill their work-from-home dreams.
The Rohatyn group is already occasionally dividing up pieces of its land. With high prices, residents of the area fear that such sales will become more common. This would leave outdoor enthusiasts to negotiate with countless small landowners for access.
"All it takes is one person to buy part of the property that a trail is going through, and they can shut it down," St. John said.
The various outdoor interest groups have come together to form the Keweenaw Outdoor Recreation Coalition, a group that is now lobbying the state to buy 15,800 acres from the hedge fund. This would ensure public access to a beloved strip of land stretching south and east from Copper Harbor to the tip of the peninsula.
"Fragmentation is our biggest enemy," said Gina Nicholas, chair of the coalition. "If we don't have the outdoors, we really don't have the basis of an economy in Keweenaw County. "
Michigan Parks and Recreation Chief Ron Olson told Bridge Michigan that MNR staff discussed the proposal, but "there has been no positive move one way or the other."
Hedge fund officials have not responded to calls and emails seeking comment, but a representative for the company has already considered the idea of ​​a land swap with the state.
Charting a way forward
Rising land prices also threaten to exacerbate a long-standing shortage of housing for workers at the port, making it harder for businesses in the city to recruit summer help to serve an ever-growing crowd of tourists.
The Kauppis, who own The Mariner North, moved from their home in Copper Harbor, moving south of the city so that their employees could live in the home in Copper Harbor.
Peggy Kauppi said the city also needs to focus more on attracting tourists during the low season, so workers in seasonal jobs can make a living all year round. The growing outdoor tourism scene, she said, is helping to lengthen the season.
"This town was shutting down Labor Day weekend and that was it," she said. "Now one of our strongest seasons is fall."
The growing pains of Copper Harbor follow a familiar story. The growing popularity of mountain biking, mountain biking, and other relatively new forms of outdoor recreation has sparked similar concerns in popular destinations across the country.