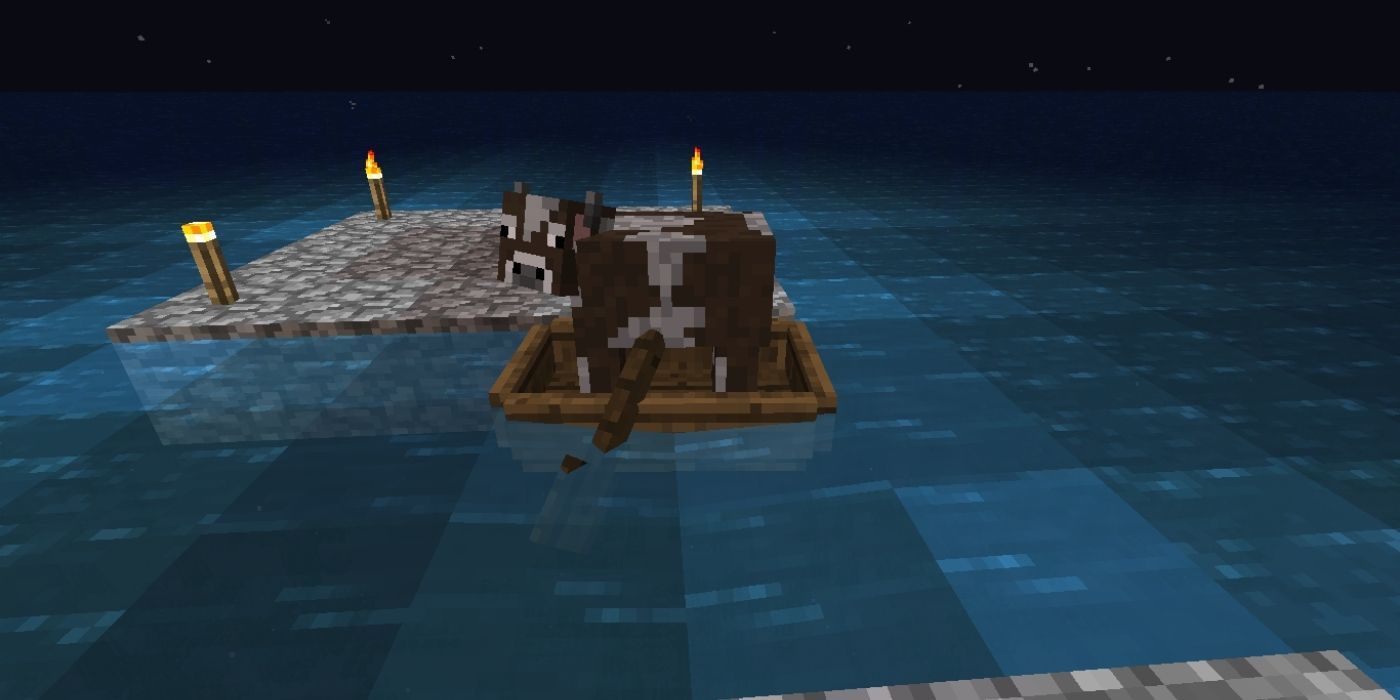 Minecraft player invents cow surfing
Minecraft players are nothing if not creative, but no one would have expected Redditor oaleksander to invent a new way of getting around with cows.
When it comes to transport in Minecraft, players have a lot of options. Between using rails and wagons to transport goods, ride horses, create ice tunnels and just walk the old-fashioned way, there is no shortage of ways to get around. Despite this, Redditor Oaleksander has taken it upon himself to come up with something new. Using just a boat, a ton of cows, wheat, and their own courage and determination, cowboarding was invented. This is because the player rides on top of the cows on a boat, using the wheat to get the herds of cattle to go where they are needed.
To be fair, others have tried this stunt before, but it is the most recent and widely recognized attempt. Fans seem to like this wacky idea, and some of them are even discussing among themselves the effectiveness of using cows for rapid transport. Minecraft has always been a game that lets players do whatever they want, but that's a whole different thing.
RELATED: Minecraft: How to Make a Shulker Box
In the video below, Oaleksander positions himself on top of a short pile of boulders so that they are watching the hordes of cows below them. After placing the boat on top of this pile, the player removes wheat from it, instantly attracting cows. At this point it's just a matter of rowing the boat out of that block and surprisingly the player has landed on the backs of these cows. They are then able to row around the sea of ​​cows as if it were water, and the speed is actually quite impressive.
Slowing down from time to time is necessary to give the cows time to catch up, but this problem is alleviated by simply adding more cows. After collecting enough cows in the group, oaleksander is then able to effectively donuts in their boat on top of the cows. If that isn't the strangest thing written today, then who knows what it is. It is also somewhat faster than a lot of other methods of traveling the world in Minecraft.
As mentioned before, there are many players involved in the logistics of creating cow surf trails for better travel, but the majority of reviewers are just making puns on cows. Some of them are quite funny, the first comment being simply "Cowabunga! There is no doubt that more and more players will be trying this out in their own games now, so expect to see quite a bit of cow surfing in the future. While it's not the most efficient way to get around, the style points easily make up for it. It's amazing that there is so much cow-related shenanigans in video games right now.
Minecraft is now available on Mobile, PC, PS4, Switch and Xbox One.
MORE: Minecraft: How To Whisper
Far Cry 6's full trophy list revealed
With the release of the highly anticipated first-person shooter, Far Cry 6's full trophy list has been revealed.
Read more
About the Author