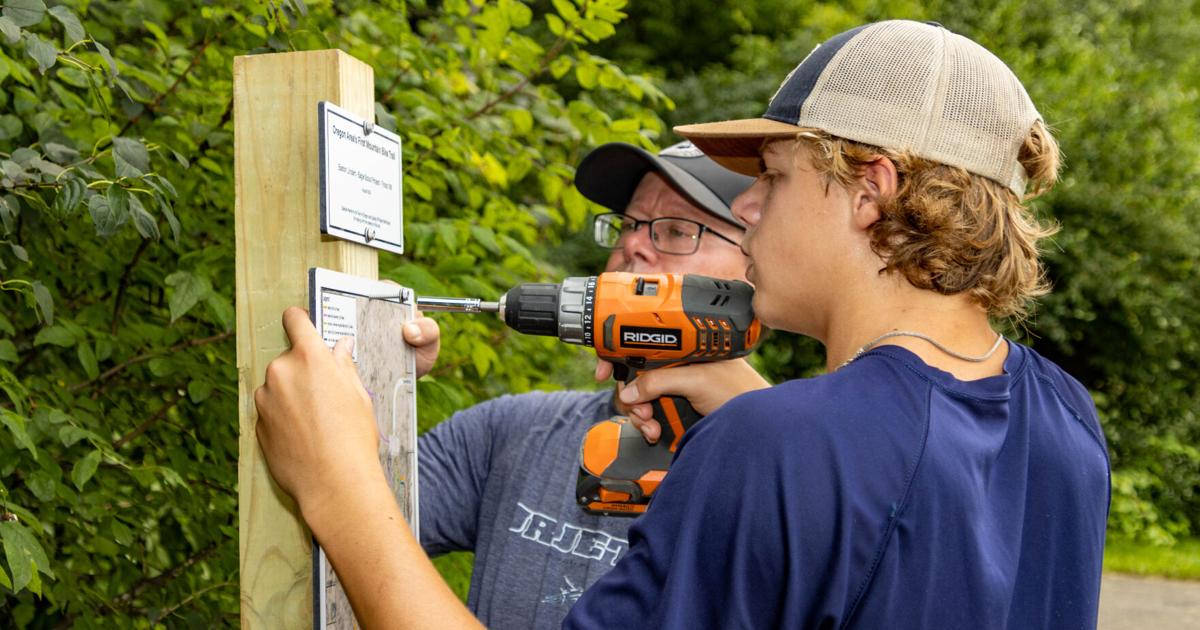 Eagle Scout brings mountain biking to Oregon | Community
Easton Lindert, an Eagle Scout with Troop 168, brought the sport of mountain biking to the Oregon town for his community service project. His trail at Town Park – consisting of three routes – officially opened after Lindert assembled a team of more than 30 friends, family and neighbors to clear brush, install dirt and clay jumps, post safety signs and more again for two weekends in early August.
Mountain biking, an Olympic sport since 1996, became popular in the 1970s when people discovered the thrill of riding bikes off-road and over rough terrain. Lindert discovered it as a child with friends, but with a little difficulty: Oregon has never had a sanctioned area for mountain biking. He decided to use his Eagle Scout status to provide this recreational space.
"I hope this brings more people together and inspires them to get out and get outdoors," Lindert said. " There's not too much [of activity] apart from walking and hiking for outdoor activities. You can also ride a bike, but there's nothing in the woods that's as technical and interesting as mountain biking. So I hope to attract more people. »
He designed the trail to be single-lane and one-way, stretching about a quarter mile along the walking paths of Oregon Town Park. Lindert also added the obstacles that make the sport what it is, including jumps and seesaws of different sizes allowing athletes to test their skills. Although the majority of the path is about two feet wide, some sections have been widened to accommodate beginners who may want to avoid the waterfalls before they think they are ready.
Besides the manual labor of creating the physical trail itself, Lindert also had to navigate the intricacies of business and local government to get his project off the ground. He approached companies like Homburg Contractors, who donated nine yards of clay, and Alpha Graphics, who donated signs outlining trail rules and other important information for bikers. Capital Off Road Pathfinders, an organization in Greater Madison, gave Lindert and his volunteers tools for their days on the job.
Things were more complicated with the Oregon city council. Two board members voted against, citing safety and environmental concerns. Two voted for after Lindert presented his solutions and plan. The president ended up breaking the tie.
"John [Lindert, his father] and I'm so proud of him," said Karen Lindert, Easton's mother. "Especially how he did in front of adults presenting… We're very proud of him."
Karen also noted how impressed she is with her son's accomplishments given his dedication to other sports like hockey and soccer: he plays in weekly tournaments with the Wisconsin hockey team and for the Oregon High School soccer team. He will also be going to college in a few years. Despite all of this, he promised himself and his community that he would continue to maintain the mountain bike trail while in high school, adding to the 400 hours of work he has already put in.
"I hope people respect it," he said of the track and his desire to bring the sport to Oregon.