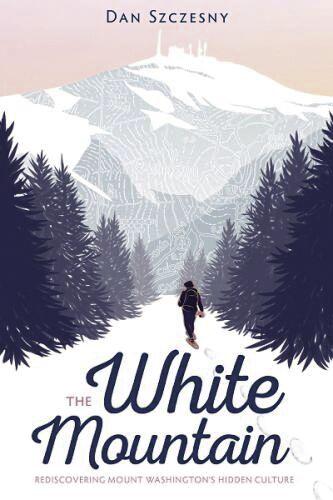 Dan Szczesny offers two new hiking books | Hiking news
There are two new books by famous New Hampshire writer Dan Szczesny from Manchester, both published by Hobblebush Books.
One is a continuation of the stories he gathered during his year of researching his previous book titled "The White Mountain: Rediscovering Mount Washington's Hidden Culture", published in 2018. The new book, which is 75 modest pages long and contains 10 stories, is titled "Stories from the White Mountain: More Stories from New Hampshire's Highest Peak."
I spoke with Szczesny by phone this week.
"You know," he said, "When you research a book in depth like I did during my year of immersion at Mount Washington, what you can finally fit into the book is a small percentage of research. "
Like most people, during the pandemic he felt restricted as a non-fiction writer. While chatting with his editor, they came up with the idea of ​​a modest tome with more stories than he had already collected in the mountain. They did it. Some stories are more developed versions of those in the previous book.
I approached reading the book with no preference whether I liked it or not. I chose a calm cloudy afternoon and relaxed with it.
Szczesny is a good writer, able to craft sentences that describe people and their interaction with each other and the environment almost like a composer writing music. It's an inventive style and it works. You can tell he loves to write.
I learned new things from each story. The two stories developed from the previous book were about a woman he interviewed in her 90s who worked at AMC Pinkham Notch camp during World War II; and Alton Weagle, a colorful figure born to Stark in 1911, whose relationship to Mount Washington was unique. These longer stories added depth to their character.
There's a chapter on the unmistakable Marty Engstrom and another on a death on the cogwheel railway that I was previously unaware of. There's one on how the summit of Mount Washington helped make maps in the mountains. This covers five of the stories, and the others are just as interesting.
I finished the book with pleasure. It's a good book to lend to friends, so they can immerse themselves for a few hours in the stories of Mount Washington. In 2023, Szczesny and his publisher plan to release another Mount Washington storybook.
Szczesny's second new book, which he co-wrote with his 6-year-old daughter, Uma, is called "NH Rocks That Rock". The book encourages family activities. It's a list of 36 unique large boulders around the state that people can visit. Some are located by the roadside, some are short hikes and some are longer hikes. They created a patch and a certificate.
Because it is family friendly, you don't need to complete all of the longer ones, just complete 25 and fill out a form to receive a Uma designed patch and certificate. At present, 11,000 people have joined the "NH Rocks That Rock" Facebook page, and it is very busy.
He recounted how it happened in early 2021.
"We love to go out and have adventures together. Little Bean (his nickname for Uma) wanted to go see Frog Rock in New Boston, "Szczesny said.
This rock was a popular tourist attraction of the 19th century. Hotel guests would take a car to see it.
Today, it is unknown and we have to walk a short path. Later on his way out, Little Bean asked if there were any more rocks in the state named for animals. I googled it and there was a lot of it.
The publisher was as enthusiastic as they were to create a guide, including not only rocks with the names of animals, but many more as well.
Each rock description in the book contains a photo (with Little Bean posing), directions, GPS coordinates, height above sea level, description and history, and what's in nearby towns for other interesting activities.
Szczesny mentioned a large boulder in the book that took a longer hike to get to, which I might find of interest: Quimby's pillow. It is located on the side of Mount Moriah, 3.5 miles upstream of the Carter Moriah Trail from Gorham.
Professor ET Quimby was a geology professor at Dartmouth and helped develop the first maps in the mountains. For this purpose, material was left atop Mount Moriah. Some of his students decided to give his name to the giant boulder at the top of the trail, or perhaps his urge to fall asleep.
Szczesny's two new books are available from White Birch Books in North Conway, which you can reach at (603) 356-3200.