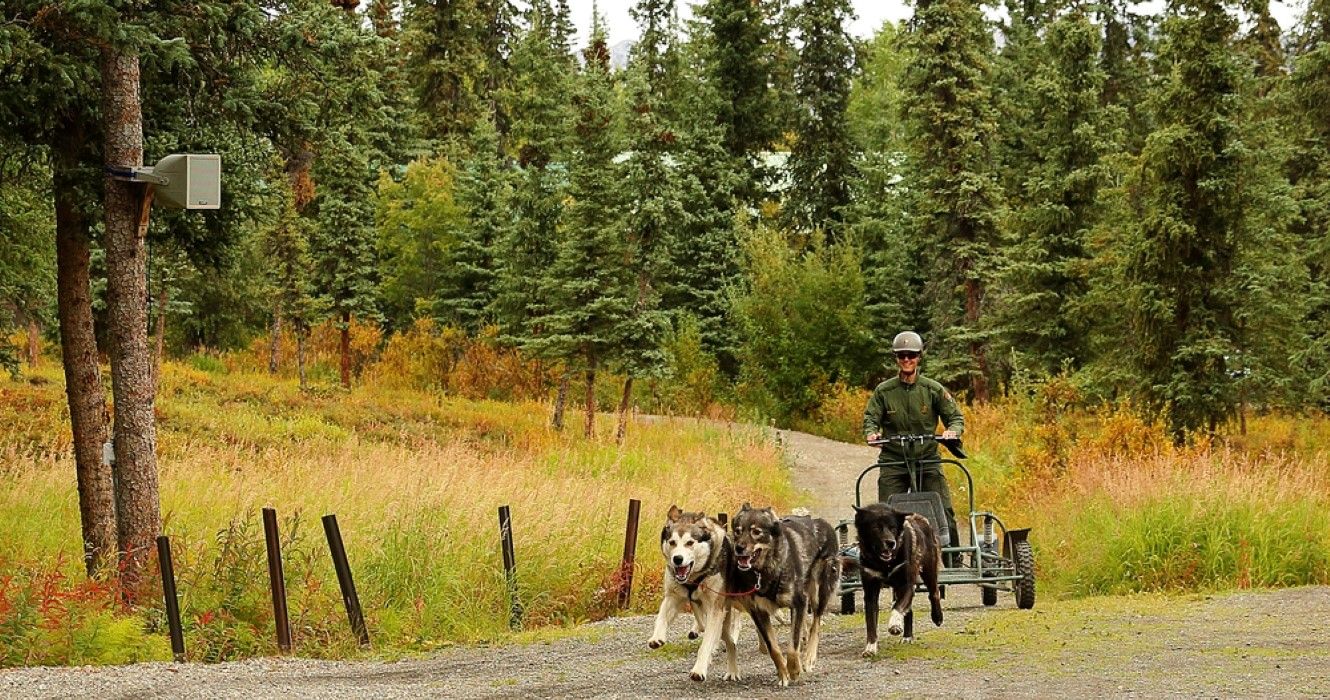 10 things to do in Denali Park (besides hiking)
Denali Park is a must-visit destination for many hiking and nature enthusiasts due to its marvelous landscapes filled with huge glaciers, fairytale forests, and of course, the highest mountain of the same name. from North America. However, even in such an impressive region with endless options for some of the best hiking anywhere, a bit of variety is needed to keep your Alaskan getaway fresh and exciting. Here's a list to help keep hiking fatigue at bay.
ten

Visit the Husky Farm

Four-time Iditarod winner Jeff King opens his home that doubles as a training ground for huskies. Visitors can experience a bit of rural Alaskan life while seeing dogs train to become champions, and that includes everyone's favorite perk, endless photo ops with husky pups. As of 2022, the visiting season runs from June 1 to September 10. Reservations are required, so be sure to plan ahead for this one.
9

Fly instead of walk

It is possible to rest your feet while enjoying the most amazing views in Denali Park. There are a wide variety of aerial tours available by plane or helicopter that will give you a bird's eye view of the park's true vastness. The tours take different routes and have their own unique touches. For example, one tour is the only company allowed to land directly on the glaciers in Denali Park, and another makes a stop at the 142 bus, made famous by the story of Christopher McCandless.



8

Dinner at Alaska Cabin Nite Dinner Theater

A popular activity for spending time indoors is spending a night at the Alaska Cabin Nite Dinner Theater. This family-friendly option offers additional immersion in the aesthetics of Alaska. Visitors are served in a log cabin with all-you-can-eat meals of Alaskan salmon and cookies before a light-hearted, humorous show set in the days of the Alaskan Gold Rush. Reservations are required in advance.
seven

Relax in Denali Park Village

Denali Park Village offers first-class accommodations for park visitors and is a fantastic base of operations for excursions, but it's also worth spending time in when a break from hiking is needed. The lodges have beautiful park views with cozy fireplaces, and there are shops, restaurants, and museums just steps from your room. Denali Park Village is perfect for a more low-key day out, but it still feels like an Alaskan adventure.



6

Warm up at Chena Hot Springs Resort

For those looking for an increased level of relaxation, a dip in the Alaskan hot springs is an enjoyable option. The Chena Hot Springs resort offers day pass options for the springs as well as indoor pools and hot tubs for travelers who are just passing through, but of course, stays of a few days are Standard. They offer more than just hot water and can arrange activities for you including snowmobile tours, sunset tours and visits to the Aurora Ice Museum.
5

off-road safari

Again, a great way for travelers to take a break from Denali Park is to let someone else drive. Off-road safaris in a 4×4 truck are an exhilarating choice for this. Denali Backcountry Safari offers one of the best game drives that takes people through the Alaskan wilderness to an audience of caribou, foxes and bears and even includes a stop for quick snacks at a lookout.

Related: 10 Adventurous Ways to Explore Alaska
4

Rail tours

Another great option for travelers looking to rest their boots for a day is to visit Denali with a nice, slow train ride. Of course, these trains leave from Denali and therefore it is better to plan a trip to see Anchorage. This train tour offers the chance to get some of Alaska's must-have jaw-dropping Instagram photos without having to get up during the nearly 8-hour ride.
3

See the Northern Lights

Probably on the travel bucket list of many people making the trip to Alaska, the Aurora Borealis is yet another mystical wonder of nature in the region. To see one of nature's most mesmerizing light shows from Denali Park, visitors should make their plans between August and April. Finding the best spots in the area to see the lights can be tricky, but guided tours are plentiful.

Related: 10 things you didn't know about the Northern Lights
2

White water rafting

Rafting is a must-do option for thrill seekers visiting Denali Park. Immersing yourself in nature is no more powerful than carving your way through the Talkeetna River or the Nenana Gorge with your team. The inexperienced shouldn't be put off by the photo-heavy, as the routes vary from novice to advanced.
1

Go ziplining

Another activity for adrenaline seekers is on the zipline! Denali Park has so many ways to experience the Alaskan countryside, and it turns out that gliding high above with the trees scrolling right under your feet is another fantastic one. It's the perfect way to have some outdoor fun while being back at the lodge in time for lunch.